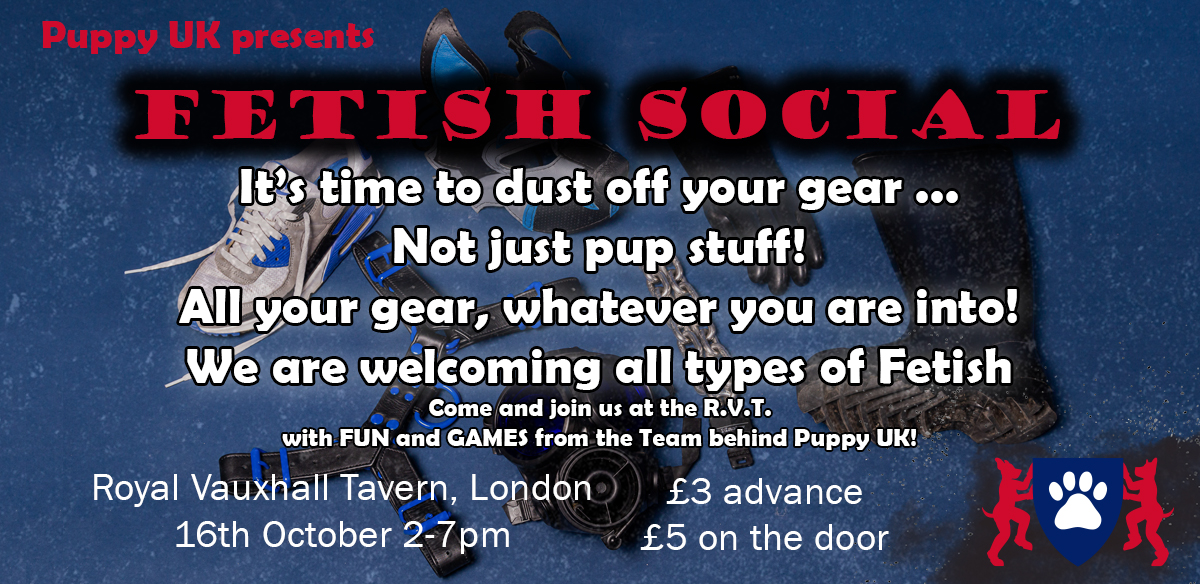 Team Puppy UK presents the "Fetish Social" at the Royal Vauxhall Tavern, between 2pm-7pm, 16th Oct.
This is your chance to dust off your finest 'social' fetishwear and join us for games, entertainment and prizes to be won.
Advanced tickets £3, or £5 on the door.
Statement in regards to Hunter's Announcement
Wruff!
Following Hunter's recent announcement, and his stepdown as Mr Puppy UK 2020, the team is saddened that Hunter has chosen to do so.
Hunter will still be known as former Mr Puppy UK 2020. The team and I would like to wish him the very best for the future.
The four previous Mr Puppy UK have accepted to be caretakers for the sash until the next contest in November 2021 at DogHouse Stoke-on-Trent.
This is to give all future contestants a chance to enter and compete for the 2022 title, thus giving those pups who wish to compete a fair chance and a full year at the title.
Licks and belly rubs,

KittyRony
President
Team Puppy UK
About Puppy UK
Puppy UK is the kink and fetish title for the Pups & Handlers community throughout the UK. The holder of the title advocates for and supports the positive development of the UK's pup community, and helps reach out to new members of the community. They become the national representative for pups and handlers at local pup events, and the international representative for the United Kingdom at European and global pup events. Held annually to elect a successor to the title, it is an event created by pups, for pups, handlers, and all friends of the pup community.
It's important to us to involve as much of the community as possible. In 2019, we held the 5th contest in London, and the 2021 contest is now being planned.
The contest is a great chance for pups to come together in a spirit of friendship. It's also a celebration of being pup, for pups and handlers and friends to come together and share in the joy of pup play and of our community.
Photographs on this site
Unless otherwise indicated, all contest photography is done by our resident puppy photographer, Pup Snap, from The Pack of 2018. Why not check out his Twitter?