These are your puppies for the 2023 contest: Dreikick, Koi, Slush, Valto and XTRA.
Learn more about them below:
(Be aware that links to social media may contain NSFW/18+ material we are not held responsible for access of this material and advise discretion before clicking)
He/Him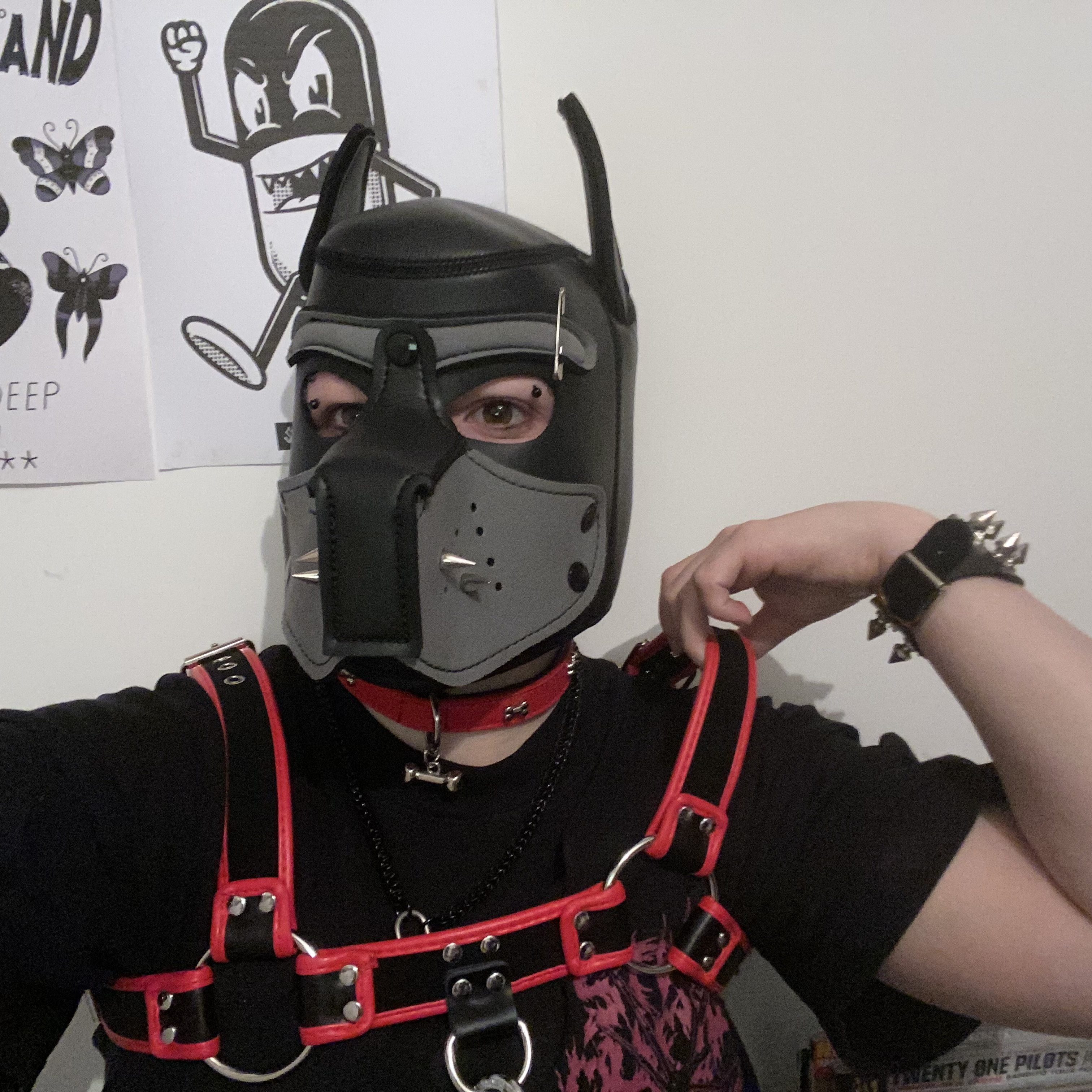 "I'm Dreikick (he/him) and I'm running for puppy U.K. 2024. I'm working on queer/kink art to spread diversity in the scene. My plan is to open up a SFW kink group in Coventry for queer individuals that is inclusive & welcoming to all, especially those on the ace/aro & trans spectrums."
Dreikick, a Wolf dog/Husky pup who dons a neoprene hood, views pup play as a 24/7 lifestyle that aligns with their personality. It represents a romantic and platonic space shared with their partner/handler and friends, occasionally incorporating sexual elements. Gear allows them to fully immerse themselves in the pup headspace, offering a fun way to escape and socialize.
Their application for Puppy UK 2024 is rooted in the importance of fostering diversity within the community. As a trans man, they are actively working to establish a safe-for-work kink space in Coventry, inviting individuals from various backgrounds and interests. This space aims to be welcoming and accepting, particularly for asexual, trans, and non-binary people who may not feel comfortable in existing West Midlands meets.
If elected, they plan to attend events like pride meets, spreading positivity about pup play to dismantle community stigmas. They aim to communicate their message of inclusion and describe the spaces they intend to create for non-stereotypical pups.
When explaining pup play, Dreikick characterizes it as a headspace where humans adopt different personas as animals or handlers, helping them build social confidence and relaxation by adopting pup-like behaviors, such as barking, nuzzling, and playing with toys.
They prefer squeaky balls for play, enjoy chasing their own tail, and find comfort in using their partner's arm as their chew toy. They possess artistic talents and are working on kink-related concepts for drawing and selling. 
He/Him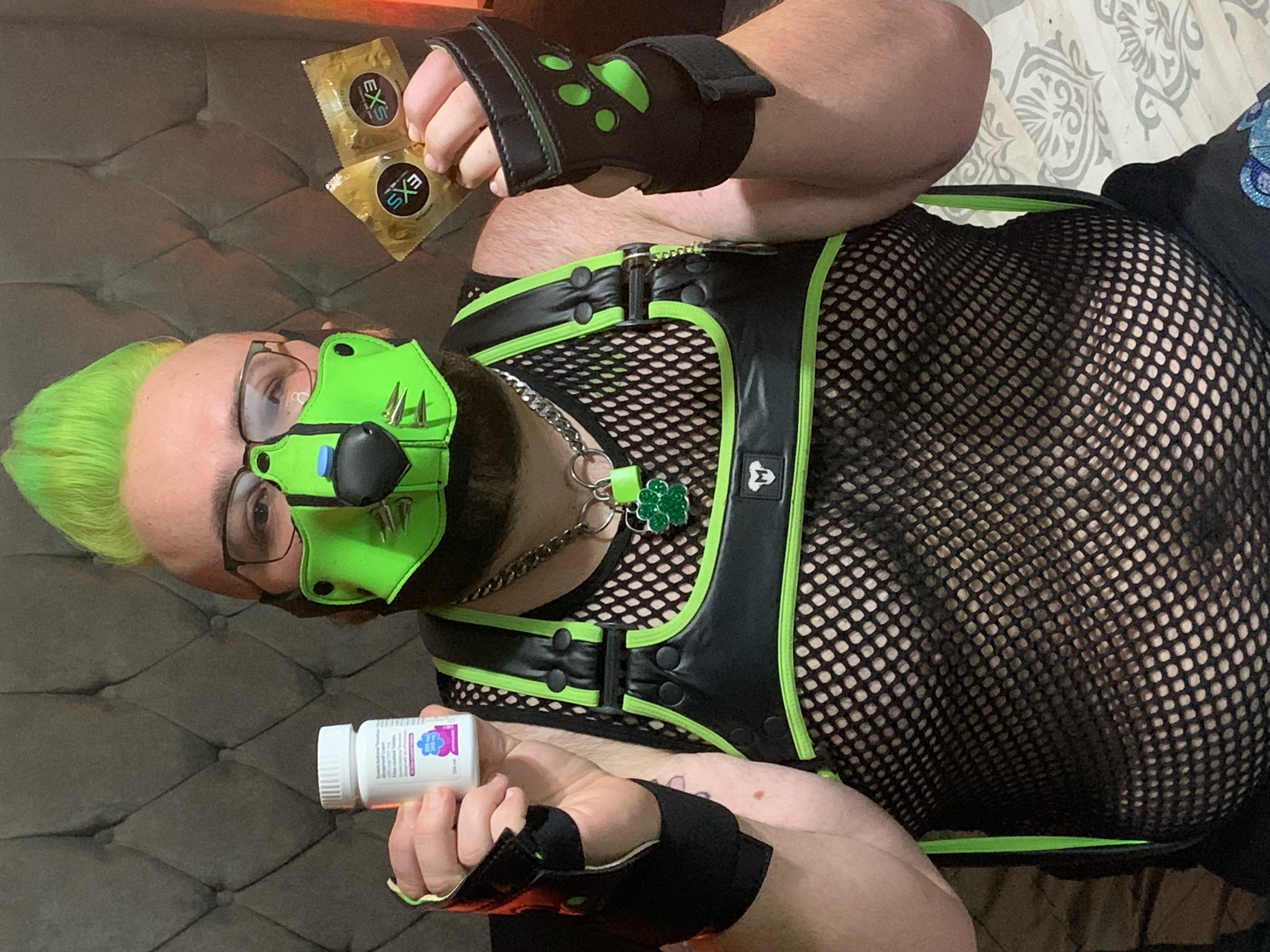 "Hi, I'm pup Koi, I'm a very friendly and approachable pup. I'm from Cannock, and I'm part of pack Saxon. I've been a pup for two years and have never been happier. The pack and the rest of the community are like one big family. All there for and looking out for each other."
Pup Koi, a social and community-minded individual, finds being a pup to be an escape from the rigors of everyday life, providing a sense of chosen family and a supportive community that transcends backgrounds and gender. They are dedicated to assisting fellow pups in need and are in the process of launching a campaign, potentially in collaboration with the NHS or SH24, to raise awareness about sexual health, particularly the importance of PrEP and HIV facts. Furthermore, Pup Koi and their partner collaborate with organizations such as "Boys Get Sad Too" and "Boys Get Raped Too."
Their motivation to compete for the title of Puppy UK 2024 stems from a desire to contribute to the community by establishing campaigns across the country and creating new venues for puppy socials. Pup Koi seeks to be a visible and informative presence, explaining pup play to those outside the community and helping normalize it. Aiming to kickstart a sexual health campaign, encouraging regular testing and dispelling misconceptions about PrEP.
When it comes to identifying with a pup persona, Pup Koi resonates with "Dug" from the movie "Up" and characterizes their pup nature as "Dizzy/Derpy." Their preferred items for play include squeaky balls and a penchant for chasing squirrels. In terms of their favorite go-to item for pupping out, it's a ball pit, where they enjoy igniting playful ball fights.
Pup Koi brings unique skills and interests to the community, having trained as a chef and excelling in baking. They possess a large koi pond, from which their pup name is derived, and are a proud owner of a Rottweiler named Skye.
he/they/xe/zir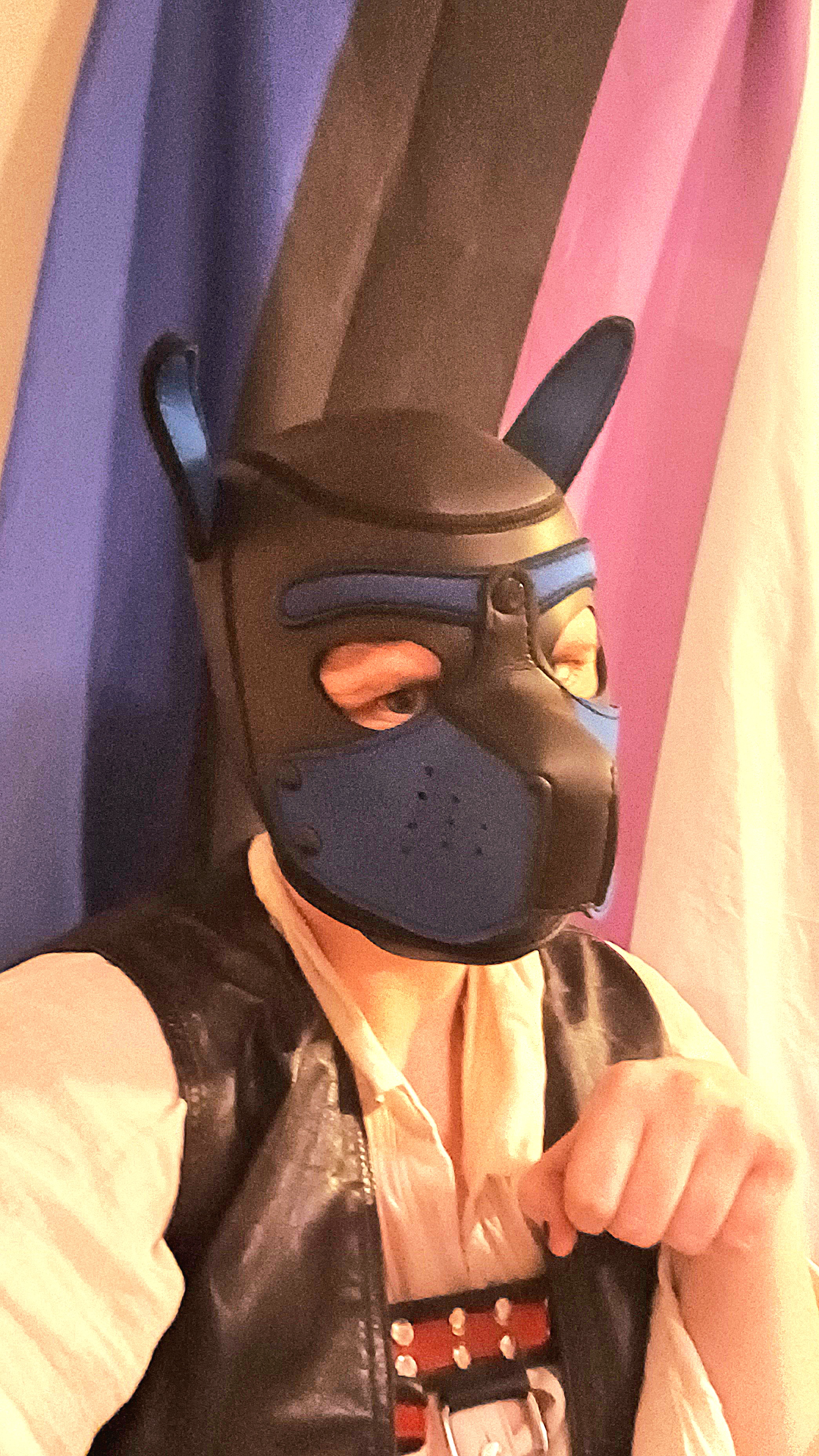 "I'm Slush The Pup, I'm 24 years old and my pronouns are he/they/xe/zir but pup/pony work well for me too. I'm a Pack Leader and Scene Founder/Organiser of Norfolk Leathers and Bears (and the Kennel Club). I'm so proud and excited to be representing Trans Masc Pups in Puppy UK"
Slush The Pup, a Blue and White Corgi with Red Gear, embraces pup play as a realm of freedom and self-expression that transcends gender constraints and judgment. They are driven to advocate for the inclusion of Trans, Intersex, Non Binary, and Gender Diverse Pups in the community, highlighting the importance of pup play in the Trans community.
In their own words, pup play is an adult form of animal role play stemming from the Pet Play Subculture, offering individuals the chance to adopt a pup persona, engage in dog-like behavior, and use gear to enhance their pup identity. Slush The Pup sees it as a versatile activity, providing both playfulness and fetish elements, offering stress relief and fun for many participants.
Their participation in Puppy UK is driven by a desire to expand their network, forge connections with new Pup and Handler friends and clubs, and underscore the value of building new connections.
If elected, they plan to support emerging clubs, mentor young Pup Players, deliver workshops and education, and actively engage with the 2SLGBTQIA+ communities.
Slush The Pup's aspiration, if elected, is to uplift the Norfolk & Norwich 2SLGBTQIA+ and Pup Communities, particularly by promoting the involvement of Trans and Non Binary Pup Players in Pet Play and becoming a recognized educator in the scene.
They identify with "Scooby Doo," characterize their pup nature as "Calm/Considered," favor squeaky balls for play, enjoy chasing bees and butterflies, and find comfort in teddies, blankets, or their favorite human. They also share a humorous quirk of being a "naughty pup for eating glass."
They/Them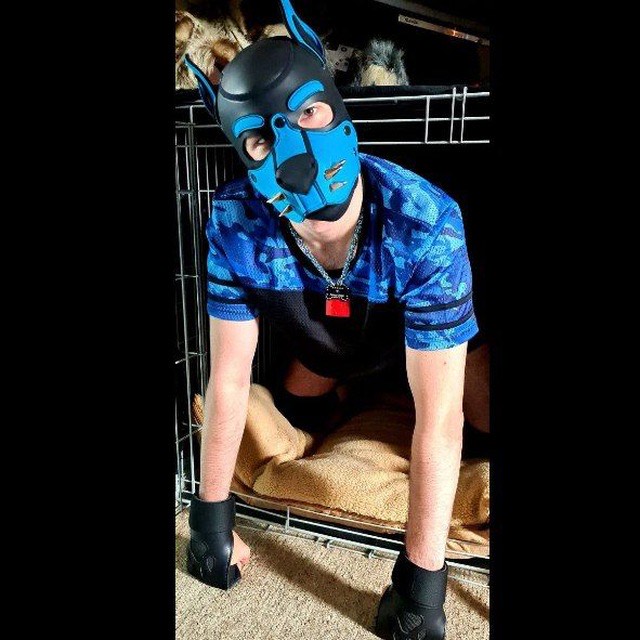 "Hi Everybody. It's Valto, I'm back again!! I'm a fun Pup from Manchester I am running to become the title holder for Puppy UK 2024 as I would like to help fight the stigma around HIV & to also combat bullying in the community so people can feel safe to be who they want to be 🤗🥰"
Pup Valto, a Husky pup, finds pup play to be a confidence-boosting escape from life's challenges. They aim to compete for Puppy UK 2024 after a year of personal and pup-related growth following their participation in the 2023 contest.
In their perspective, pup play serves as an anxiety-fighting, self-expression tool that allows individuals to explore different personas and simply have fun.
Competing for Puppy UK 2024, Valto seeks to enhance their confidence in contests and real-life settings, striving to reach their full potential. f elected, Valto would assume responsibilities in ensuring community and event safety, aiding those in need, and upholding the legacy of previous titleholders for the community's benefit.
Their goal, if elected, is to cultivate community growth and demonstrate its supportive nature, especially for pups who may be hesitant to express themselves due to anxieties. Valto identifies as "Calm/Considered," prefers chewy bones, and enjoys chasing squirrels during play. Their go-to item for pupping out is a tug rope, fostering safe strength-testing battles.
Outside of pup play, Valto is a gadget enthusiast and competitive gamer, known for their social endeavors and fundraising efforts for charities like George House Trust and Terrance Higgins.
He/HIM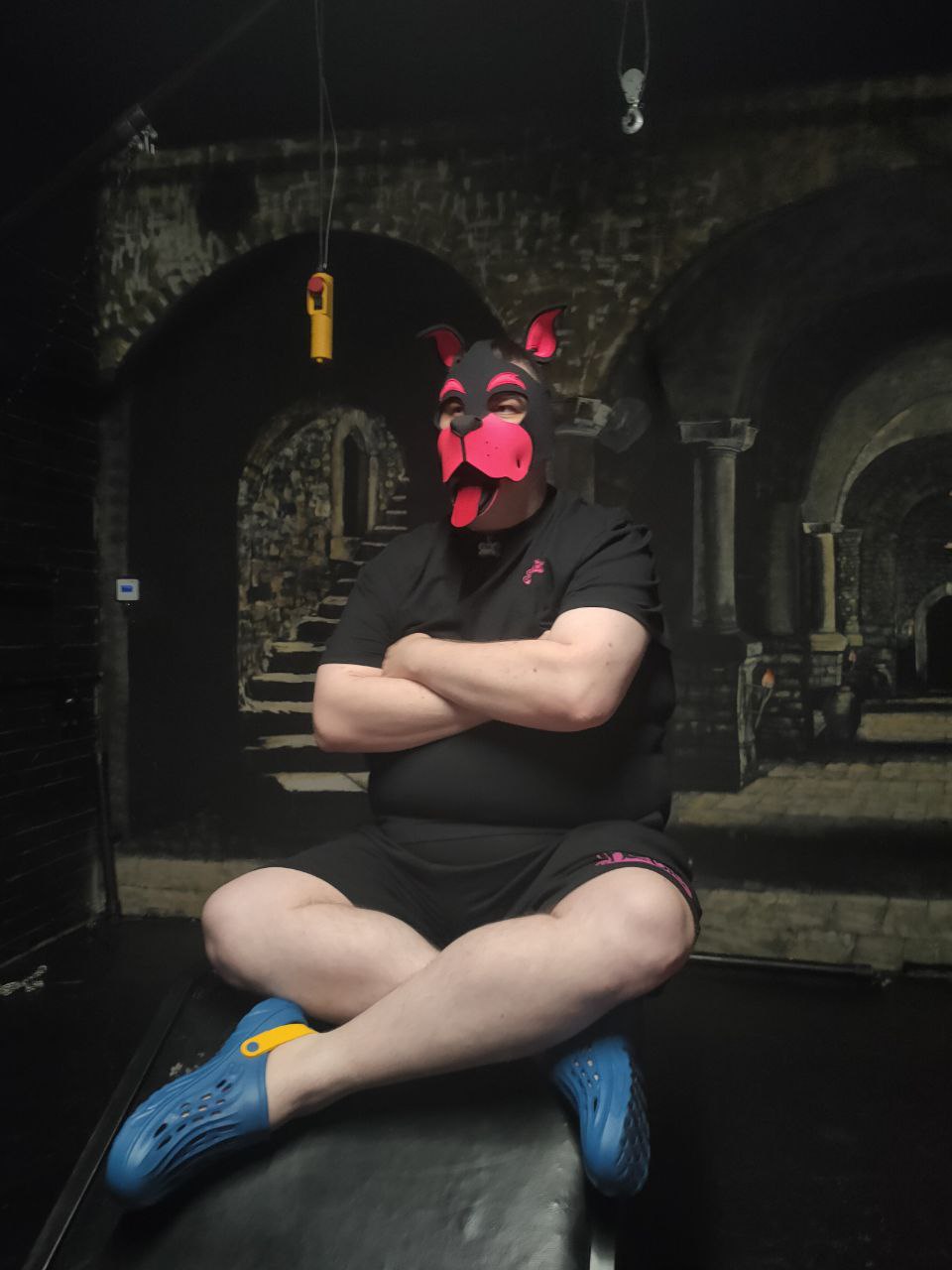 "I'm pup XTRA, in capitals because that's extra! He/him Pup and general problem. I'm a medical professional and veteran procrastinator. I'm bilingual, which means sometimes it takes me ages to remember a word in English as my brain keeps giving me the word in Urdu I'm trying to remember. Interesting fact about me is that I took my first 2 flights before I was 20 days old and am an aviation geek. I am also funny, unless you're the one we're all enjoying the jokes about then I'm just XTRA. I have resting judging you face. And all out borktastic."
XTRA, an Alpha pup, opens up about their journey starting in Pakistan, where their mixed-race background and light skin made them feel exposed and constantly stared at in public. They struggled with body image issues in a society where such comments were casually made to strangers, leading to a strong aversion to public life. However, after relocating to England, attending university, and entering the workforce, their self-confidence improved, despite occasional bouts of self-loathing from their past. Pup play is their avenue to express their complete and true self, a vital part of their identity. 
Their application for Puppy UK 2024 is more than a candidacy; it's a commitment to the pup community, an opportunity to be part of the class of 2024, and an avenue to remind themselves and others of the importance of embracing pup identities and supporting fellow pups.
XTRA's goal is to elicit strong emotions in readers and listeners, emphasizing the significance of diverse perspectives, including a South Asian viewpoint in the pup community.
While XTRA has been supporting the community on a smaller scale since 2013, they now aim to take on a more substantial role in fostering an inclusive and welcoming environment for all pups. They acknowledge the validity of the feelings held by those who don't apply for titles like Puppy UK. Having experience as a handler, XTRA recognized the need to practice what they preached about being true to oneself. 
Pup play, for XTRA, involves shedding the "mask" of human personas in everyday life. It offers an opportunity to break free from societal expectations, allowing them to be their genuine selves, free of judgment. Pup play provides unconditional love.
XTRA hopes to provide guidance, connection, representation, and support for both experienced and new pups. Aims to increase visibility within the pup community, provide support and stewardship for all pups, foster connections among them, serve as a role model, and selflessly serve the community. Their ambitious plan involves launching a pup gear adoption service to reduce costs and environmental impact. They also plan to initiate a social media campaign, "A million ways to pup," featuring the hashtag #YouValid, highlighting the diversity of the pup community and inspiring pups to be themselves without fear. 
They have a unique skill of making people laugh, even in stressful situations, maintaining a sassy demeanor in candid photos